Trying to build your social media strategy? Looking at all the available platforms and how you should approach them from marketing, sales, and a customer service perspective can be overwhelming. If you have the resources to monitor and respond on all platforms at scale then more power to you. However, that's unlikely for most businesses. As Vatuone says, "an empty profile is worse than no profile at all." RH, formerly Restoration Hardware, is a great example of Vatuone's theory in action.
A lesson in not investing in social media
RH's CEO Gary Friedman doesn't believe in investing in digital, and as such the company has no official or active social media profiles. What looks to have been an old Twitter account stopped sending tweets in 2011.The Facebook profile that was linked to and posting automatically to Twitter (not a recommended practice) in the past no longer exists. No Instagram. No Pinterest. However, there is a YouTube channel with a few videos posted each year for the past seven years, although nothing in the past year. Friedman believes that the web is "the most democratic channel" by allowing the smallest retailers to look as big as the largest. "You would have to click 10,000 times to know how large our assortment is," he says. Freidman reduces social media down to "posting online about ourselves." So, does this strategy work?
In 2014, the latest RH source book shipped out, weighing in at 17 pounds and with 3,300 pages. From the Business Home profile, Friedman claims source books are "the only physical manifestation of our brand" in some markets. The brand faced a lot of backlash on social media as those receiving the catalog felt it was wasteful. Rather, the brand ignored backlash on social media because it did nothing to respond to concerns since it isn't active on any channels. The company didn't even provide a statement to the press, instead pointing the media back to the latest earnings call where Friedman rehashed the stance on needing the catalogs to truly show the company's assortment (Finney, 2014).
Friedman's take on social media falls short in that social media isn't just posting about yourself. That strategy doesn't consider the need for addressing consumer's issues where the customer is. His strategy is "doing great work and letting the world talk about us." Is it truly a great customer service if your team isn't picking up on sentiment or issues from people's concerns across the web and adjusting? Instead, RH is forcing the user to come the company's service funnels on the company's time.
What about building a community? Brand advocates want to see their renovations shared by the brands they love (believe me I worked in the industry and grew the Instagram following that was already in the thousands more than 400% in a year by tapping into the community). RH is missing out on creating relationships with brand ambassadors, like one home renovator whose renovation Reels had 100s of thousands of views. She was "almost heartbroken that they don't want to see what she's done." RH fails to understand the conversation over content aspect of social media since it has a leader that is too concerned about showing off its assortment to talk about it with excited customers.
Rather than completely abandoning social media, consider Lush Cosmetic's approach. In November 2021, Lush went dark on Facebook, Instagram, Snapchat, and Tik Tok with a clever post to its channels (Figure 1). The brand put out a statement explaining that these channels are bad for your mental health which is antithetical to self-care and relaxation that their products embody. However, the brand is still using Twitter, where it is actively responding to customer comments and complaints. Lush proves you don't have to be every where to make it work for your brand and your customers. But how do you decide where to focus those efforts?
Figure 1
Lush Cosmetic's Instagram Profile encouraging users to "be somewhere else" (Lush Cosmetics, [@lushcosmetics], n.d.)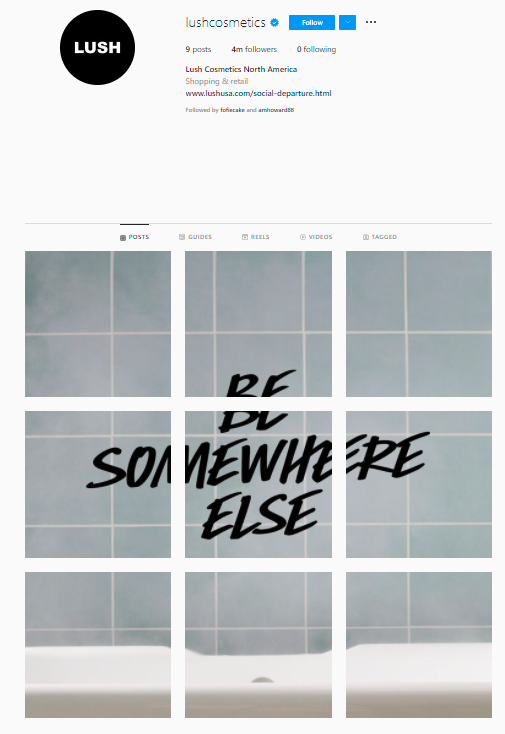 How to pick your social media platforms
Lead with your values
First and foremost, stand by your company values. Lush realized certain platforms didn't support its values and are avoiding those. Maybe some of the shadier side to Reddit means you'd rather not dive into that platform.
Find where your audience is
In addition to thinking about your values, consider those of your target audience. On what social media platforms might you find your consumers? Research the different social channel demographics and see which align to your best customers or most promising new customers. Check your website analytics and see where your most active website users are being referred. Even non-social referral channels can give you an idea of the type of websites and its demographics that could align with a certain social channel.
Consider the type of content to be shared
Depending on the type of content your business is more adept at creating can also lead your business to focus on a certain platform. HubSpot focuses on 5 types of social media:
social networking, including Facebook, Twitter, and LinkedIn
photo sharing, including Instagram and Pinterest
video sharing, including YouTube and Vimeo
interactive media, including Snapchat and TikTok
and blogging, including Reddit and Tumblr.
A SaaS company using mostly stock photography for its website is not best suited for a photo sharing platform. However, video tutorials of the SaaS product could do well on a video sharing platform or even on interactive media. Who would have thought Excel could be such a cool thing on TikTok?
RH is perfectly suited for Instagram. #restorationhardware has 350k+ images tagged. However, the hashtag is losing the plot to those doing their own restoration of vintage items. Meanwhile, by at least having an Instagram profile, Lush is still able to have the conversation directed at them by consumers advocating for them on that platform.
No matter which platforms you decide on remember that they all should be used to engage with your customers. I've been harping on the need to see social media as a customer service tool for a decade now! If your brand hasn't established a strategy around social customer service yet, Business News Daily offers several best practices for approaching social media as a relationship building opportunity through customer service.