Ever have those ads on Facebook or Instagram that just keep coming back? Do these advertisers think they can just wear you down? Maybe they do. I had one that I'm thankful hounded me for weeks, maybe months, because I eventually needed the products offered by the brand. After a trip to the salon, I realized I needed some help repairing my hair and reducing breakage. A heatless curler ad that I'd seen what seemed like dozens of times suddenly became relevant, and not long after that I was a Kitsch customer.
Some recent Slack chats with coworkers joked about the ads following us around on social media. I admitted actually converting on the Kitsch ad, and a colleague told me that they had seen the brand at Ulta. In that moment, I regretted that I had got roped into the social ad and lost out on some Ultamate rewards points. However, I had a promo code and got 30% off my order and free shipping.
Did I end up ahead as a consumer? Did Kitsch end up ahead? Let's look at my customer journey, how it could have gone differently with Kitsch's omnichannel presence, and what Kitsch can do to optimize across channels.
My Customer Journey
As you know, my hair repair need aligned with a brand I'd been seeing on social media ads. Truthfully, I didn't remember the brand name but, sure enough, was shown another ad. From the ad, I went to mykitsch.com. The website is on the Shopify platform and was using the discount code options to offer a 30% discount at the time. The discount code was displayed across the top of the site on the announcement banner. I selected the heatless curling set that I had seen in the advertisement and added to cart. The cart indicated I would be eligible for free shipping if I spent a certain amount more. This free shipping notification is another Shopify feature. Because of that option, I started to look around at other haircare items to help with my damaged hair. After finding different shampoo and conditioner sets, I went to Google Search to look up what the different types meant.
I searched for "shampoo for fine damaged hair," which brought up several ads for products. Meanwhile the organic links were mostly for articles (Figure 1). I clicked into one article, and it was filled with affiliate links. Instead of clicking any of the affiliate links, I used the information to determine which hair bundle I should get, a shampoo and conditioner set for hair strengthening and growth.
Figure 1
Google search results for "shampoo for fine damaged hair" (Google, n.d.)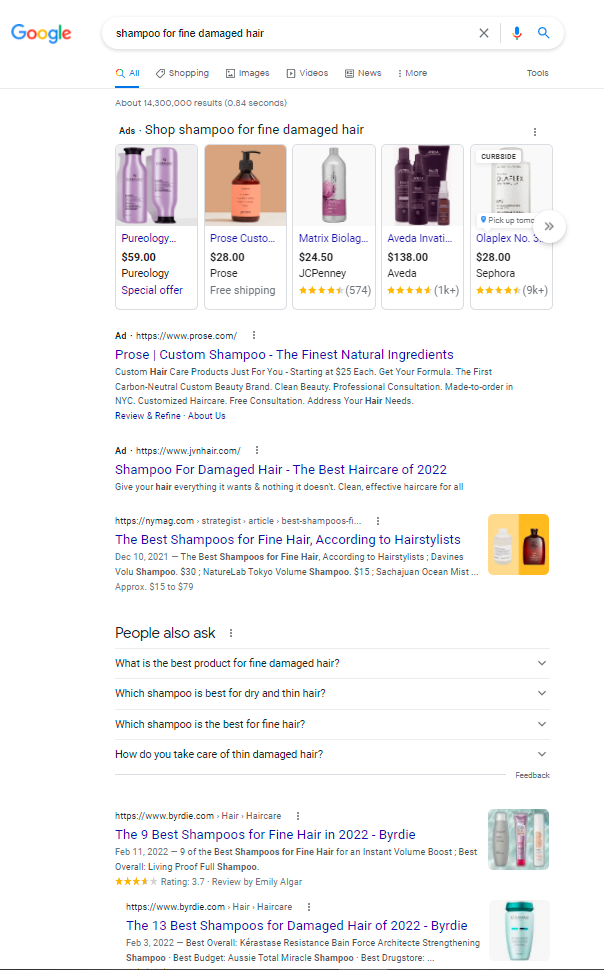 After completing my purchase, I was immediately sent a "message from the founder" email that showed gratitude for my purchase and explained how it supports a "small, self-financed, woman-owned business." I wouldn't receive a confirmation email for almost exactly 24 hours from the time that thank you email was sent. In between that time, I received an email promoting the discount code I had already used and some of the best sellers it could be applied to. Having not received a true order confirmation, only the thank you email, this promotional email was off-putting. I suggested via Twitter that maybe ecommerce brands should consider filtering out first-time purchasers who may not be certain of the brand yet from promotional emails until their order has shipped. This would be possible by segmenting the audience by order date, accounting for your typical order processing time.
The Omnichannel Paradox
In my journey, Kitsch had an opportunity to lose me as a customer. I could have found a similar product in the affiliate links of the articles I was using for commercial research. Had I gone back to Google to refine my search to learn more about "rice water shampoo bars" (the option I had decided on from Kitsch's catalog), I might have been directed to the top-ranking result, Viori, or found that I could purchase Kitsch's product from Ulta. I'm a rewards member at Ulta and the free shipping threshold was $5 less than Kitsch's (Figure 2).
Figure 2
Google search results for "rice water shampoo bar"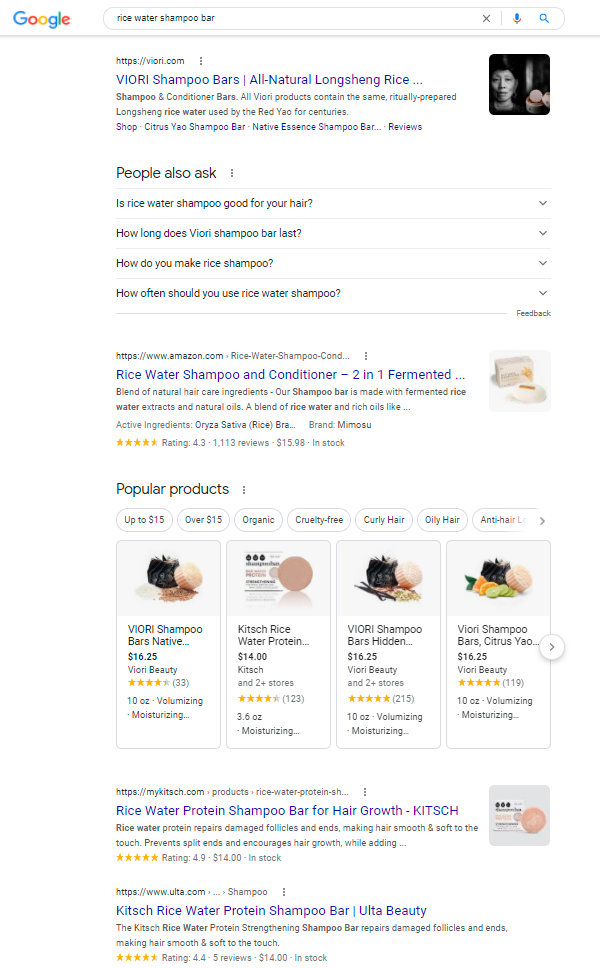 As you can see in Figure 2, mykitsch.com just barely outranks its product on Ulta.com. In search engine optimization, SEOs talk about cannibalization a lot as it pertains to having links on your website, but what about a brand's product cannibalization across marketplaces? I searched all of the Kitsch products on Ulta.com and set up a keyword list. When I applied that keyword list to ulta.com, Semrush offered "mykitsch.com" as a competitor. Although the Ulta links don't include the brand name, most of the top ranked links for the keywords were for Kitsch products. Of those links, about half were outranking mykitsch.com for the same keyword.
Kitsch is making money whether they sell the product on Ulta, Amazon, or their website, right? But these customers might not be created equally. A customer purchasing off a marketplace will likely have no communication solely branded and may not even associate with the brand at all. Kitsch wouldn't have had an opportunity to explain its values in a message from the CEO following my purchase off another site and probably not many opportunities to continue reaching me with promotional emails.
So, should brands avoid selling on marketplaces? Not exactly. Marketplaces give brands an opportunity to reach people that may not have heard about the brand otherwise. Think back to my colleague that recognized Kitsch from Ulta shopping. By offering its products on Amazon, Kitsch is able to reach the 51% of customers that start their shopping there. Semrush shows more than 60% of traffic to mykitsch.com is from direct traffic and nearly 70% of organic traffic is branded, so the brand appears to be pulling back in customers from these other channels.
How to Optimize Across Sites
To help bring traffic to the brand site, offer exclusives that are not offered on retailers, as recommended by Digiday. Kitsch does this by offering bundles that are not available on Ulta. However, Kitsch could stand to offer a discount for the bundle to help entice customers to buy it on the site versus buying the items separately (if bundled products are available individually elsewhere).
To fight cannibalization across sites, tailor your product descriptions and images for each site. Google offers a competitive analysis of retailers that can give companies insights into where audiences converge. Using that and data from Semrush's Market Explorer can help brands understand the demographics and interests of the audience for each site. And don't forget about the site search for each of those sites. Consider how these different audiences might search for the product within the site to use that to differentiate your product pages.