I'll admit that with more of a focus on data and technical SEO in my current role, I don't do much keyword research anymore. In past in-house roles, I used Moz. When I had access to both Moz and Semrush, I leaned more heavily on Moz because I was more familiar with it. So, although I've had access to Semrush for at least 4 years now, I don't have much experience with it outside of the Keyword Magic Tool and Position Tracking. Playing around in Semrush beyond my daily work for my Web Metrics and SEO grad school class has forced me to explore into unfamiliar territory. Had I known about these other tools and features (some of them didn't exist at the time, though) when I was an in-house team of one, I would have definitely gone with Semrush over Moz.
Link Building Tools
Although I've been in digital marketing for more than a decade, I've done very little link building. I only really focused on broken link reclamation. As an in-house team of one managing all content marketing, I often checked for broken links in Google Analytics (that didn't require me to pay for a tool) from referral traffic. With access to Moz at the time, I did get a little bit of information from its Link Explorer tool, which I would use to add to a disavow list. (Before you disavow though, I'd recommend reading this article!) With the Indexed Pages report within Semrush's Backlink Analytics, I could have more easily seen where backlinks were 404ing (Figure 1). By connecting with Google Search Console (GSC), the Backlink Audit allows you to manage a disavow list and import in your existing one to automatically parse out duplicates.
Figure 1
Screenshot showing how to filter the Indexed Pages report to broken links only (Semrush, n.d.)
As for link building campaigns, I've never really done those. When I was in-house, I'd get brand mentions or links by building relationships and partnering with other big players in the industry. These mentions and links were found with social listening tools, which gave me more information than most SEO link tools. (The Brand Monitoring tool inside Semrush looks promising, though). However, I had to keep the backlinks in a spreadsheet since social listening tools didn't show if/when you'd lost the link. If I had been looking to do link building campaigns, the Link Building Tool would have been extremely helpful. It shows opportunities for keywords you'd like to target on sites that complement you or your competitors. From my experience, a way for Semrush to improve that tool is to highlight where a broken link already exists on a recommendation and encourage the broken link outreach type. Also, it would be great to allow users to add/update contact info in the monitoring section, so you have it in one place who you specifically worked with to earn or update the link. A built-in contact update would have saved me from managing separate spreadsheets of contacts and brand mentions/links.
Listings Management
For only an additional $40 a month, you can have listings managed for 70+ directories, respond to reviews across sites in one portal, and get local map pack heat maps. When I was working with a regional hospital system, I remember using ReviewTrackers for managing responses across review sites. A portal to see reviews across sites and respond from one interface makes it so easy for a customer service team that will likely be managing the responses. Unfortunately, ReviewTrackers doesn't list the pricing, which probably means it is going to cost way more than $40 a month. Additionally, that tool didn't also give me listings management and the local heat map. The listings management is handled through Yext, which some people don't care for. The local heat map allows you to see how well your business performs for up to 5 different keywords around your region. I've been seeing these types of graphs shared by local SEO folks on Twitter (I'm not sure if these were from Semrush's tool, though) and thought it was a very cool visualization.
Even if you don't want to pay the money the listings information is available in Semrush to show you where you have missing, incorrect, or incomplete information (Figure 2). That information alone will help make manually updating your listings a bit more manageable.
Figure 2
A screenshot showing missing, present, and not present data from a free Semrush listing analysis (Semrush, n.d.)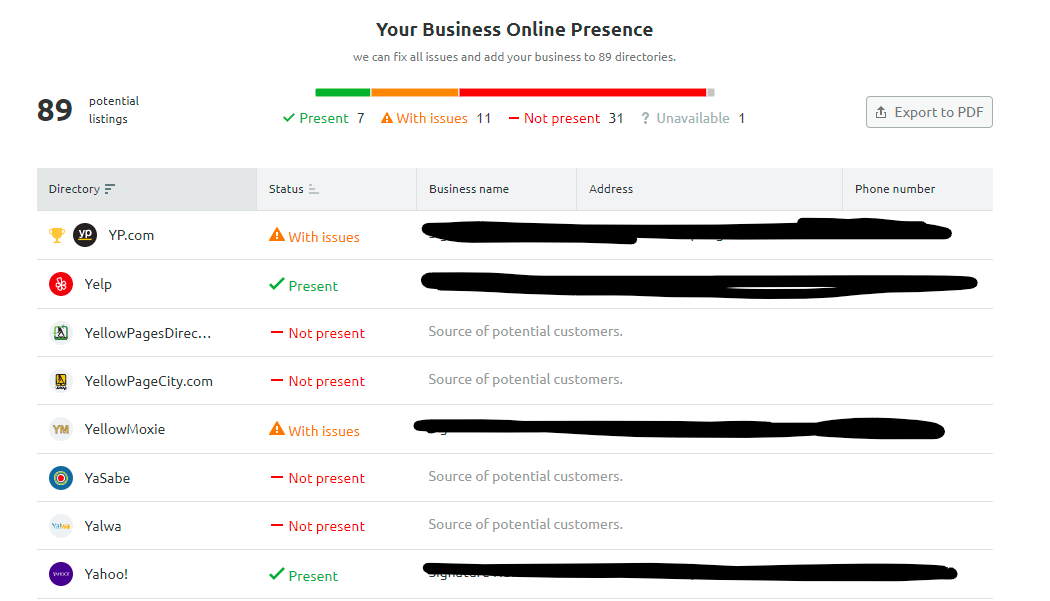 EyeOn
Poking around in the Trends portion of Semrush, I spotted a tool that is still in beta, EyeOn. Semrush says it "automatically tracks your rivals' moves: from new content to promo shifts." This one caught my attention because I just recently set up a script to allow team members to drop in RSS feed links and get a formatted spreadsheet to monitor industry news and competitors. EyeOn not only shows recent updates about your competitors' websites but also monitors their search advertising. I regularly meet with our search marketing team to share insights and plan forecasts and will definitely start sharing this report with them! One thing that Semrush could do to improve this report is to add in data from the Facebook/Meta Ads Library.
Log file Analysis
As the lone SEO, I remember being excited to get log files from my IT department. However, I could only get 7 days' worth of data in one file. Additionally, I didn't have the best way of filtering the data other than using Excel filters. Semrush's Log File Analysis tool would have allowed me to filter down the logs to those just from known Googlebots and sort by desktop and mobile. Additionally, it seems as though you can import multiple logs (as long as, it is for the same website), which would have made it easier for me to add and combine my 7-day exports.
As I mentioned, having the opportunity to explore the tool beyond what I need done in the moment for work has opened up a whole world of possibilities. This post barely scratches the surface of all the tools available, and I plan to play around even more to discover them all! Thanks to the Semrush team for giving students free access!